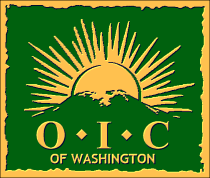 Opportunities Industrialization Center
of Washington
How This Process Works
Education and Career Services
Our career training and education system supports a diversity of stakeholders including staff, students, local contractors/small businesses, partners, and community members.

Course description
Warehousing - Forklift Course only, 8-hour course. Students will earn forklift certification.

Warehousing - Forklift Course, 6-week course, students will earn forklift certification and gain knowledge shipping and receiving, processing of bill of lading, inventory management, safety, and customer services.

Warehousing - CPR/First Aide, 8-hour course. Students will earn CPR certification.
Enrollment Process:

Step 1: Complete the web form and select the training location, date, and time.
Available appointment dates are shown in black.

Step 2: Confirmation will be sent to the email address on file.

Step 3. Payment Options
To make a payment, please visit the website link at https://www.yvoic.org/services/training/
or call our office to make payment over the phone.

Accommodations can be made based on individual needs.