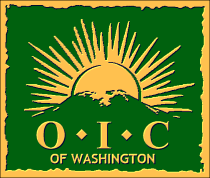 Opportunities Industrialization Center
of Washington
How This Process Works
MUST reside in Upper Yakima County, or of Grant, Adams County.
Household can only receive one benefit between the months of October 1, 2020 to June 30, 2021
Must be income eligible and provide all the required documentation. Incomplete applications will not receive a benefit.
After your application is complete a benefit is determined and sent directly to your heat vendor.
Coronavirus update: OIC of Washington has established specific measures to help protect our employees from exposure to COVID-19 and to curve the potential spread of the virus in customer homes and our facilities across the State of Washington. We are closely following recommendations from the Center for Disease Control and Prevention (CDC). This includes recommendations on social distancing. These temporary practices differ from our normal operating standards; however, we hope to provide the best customer service to our community during these difficult times. If you have appointments scheduled you will be called for a phone intake and will be instructed on documentation needed to submit.

Actualización de Coronavirus: OIC de Washington ha establecido ciertas medidas para ayudar a proteger a nuestros empleados y a la comunidad de la exposición a COVID-19 y para reducir la posible propagación del virus en los hogares de los clientes y nuestras instalaciones en todo el estado de Washington. Estamos monitoreando de cerca las recomendaciones federales y estatales del Centro para el Control y la Prevención de Enfermedades (CDC, por sus siglas en ingles). Esto incluye recomendaciones sobre el distanciamiento social. Estas prácticas temporales difieren de nuestros estándares normales de funcionamiento; sin embargo, esperamos proporcionar el mejor servicio de atención al cliente en nuestra comunidad durante estos momentos difícile. Si tiene citas programadas se le llamara por telefono y dara instructions para mandar su documentacion.
This information can be viewed in Spanish, but must be submitted in English.
Questions or Problems
For questions that haven't been answered, check our FAQ page (see link at top right).
If you have any further questions or concerns, please call 509-452-7145
---
Register For Appointment
---
Have you received assistance since 10/1/2018?
We're sorry but Energy Assistance in only eligible once per heating season.
---
Applicant Information
* = Required Field
---
Income Information
What source(s) of income has/have been received in the household?
This would include everyone in the household, including those 17 and under. Check all that applies below.
Households will be required to verify income when it was RECEIVED, not earned.
---
Income Information
If your entire household has received no income/monies of any kind for the months of March 2021, April 2021, or May 2021, then check the box below. Otherwise enter all income received for these months in the table below.
Type Of Income
March 2021
April 2021
May 2021
Earned income

(gross)

TANF
GAUGAX
SSA
SSI
SSD
Unemployment


(not taxed at the time received)

Unemployment


(taxed at the time received)

Child support

(received)

Child support

(paid out)

Pensions/retirement


(taxed at the time rec'd)

Pensions/retirement


(not taxed at the time rec'd)

Military
Self-employment
Other
---